14 February 2016
Fuso Canter Loaded With Vitamin C For Kids
A Fuso Canter full of vitamin C is being used to boost the health of school children in the Geelong region. A local charity project called Project C is delivering oranges and mandarins to 40 schools across the region that has been hard hit by the manufacturing downturn and the closure of large industrial operations. It is backed by three local businesses in the suburb of Breakwater, Geelong Citrus Packers, Fuso Geelong and Penny Scallan Design, which is part of the Stuck on You group of companies.
A Fuso dealership has provided a new 515 Canter with a box body, complete with a dramatic lightning theme paint scheme, for the charity operation. The truck, fitted with the driver-friendly Duonic automated transmission, delivers fresh oranges and mandarins donated by Geelong Citrus Packers, a third generation business that packages between 80 and 120 tonnes of fruit every day.
Geelong Citrus Packers takes just 72 hours to move oranges and mandarins from the tree to the retail shelf, so it is well prepared for the logistics of providing fresh fruit to school children. Once the Fuso dealership's media and marketing coordinator phones through the orders to Geelong Citrus Packers' logistics manager, Calvin Schultink, the truck is loaded with around 40 boxes of mandarins and oranges.
Three volunteer drivers take turns to deliver the fruit, three days a week. Mr Schultink, affectionately called 'mowhawk man' by some of the school children, fills in if the driver can't make it. He says the efficient 3.0-litre Canter, which can be driven on a car-licence, is perfect for volunteers to drive because they don't need a truck licence, or experience, to get in behind the wheel. "Really, it isn't very different to driving a car at all," he says.
Geelong Citrus Packers managing director, David Thierry, says the idea came about from discussions he had with a Fuso dealership, which is located just around the corner. The two compared notes and came up with Project C.
The Fuso dealership says the idea was to make a difference by improving the nutrition of around 12,000 young people across the greater Geelong region "Particularly where the closures of major industries have had an impact and added more pressure to struggling families."
As Mr Thierry puts it: "It is paramount that kids get a good dose of vitamin C and many are not getting that for various reasons. We hope to get kids to realise that fresh fruit is yummy and get them excited about citrus."
Mr Thierry grew up in the citrus business and says the health benefits are clear. "When I grew up I had plenty of access to citrus and I hardly had any ailments," he says.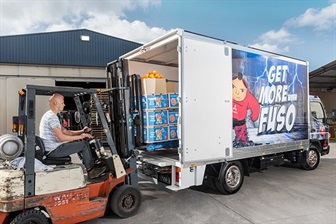 Mr Thierry says the fast delivery of fruit is important and he feels prolonged storage has become an issue. "It is really important that people are eating fresh fruit, not just for our business but also for the health of the community," he says."A lot of fruit and vegetables are stored for much too long." As a result, the fruit handled by Geelong Citrus Packers varies with the seasons and Navel oranges and mandarins are delivered in winter months and Valencia oranges are delivered in the warmer months.
The company removes any loose material or unsuitable oranges, washes and waxes the produce and then packages it, in either bags, boxes or in bulk lots for sale in Australia and a series of international markets including China.
Penny Scallan Design, which specialises in premium bags and accessories for kids, not only supports the Project C initiative but has also donated 1000 backpacks, lunchboxes, hats and suitcases to children and schools in the harder hit areas of Geelong.